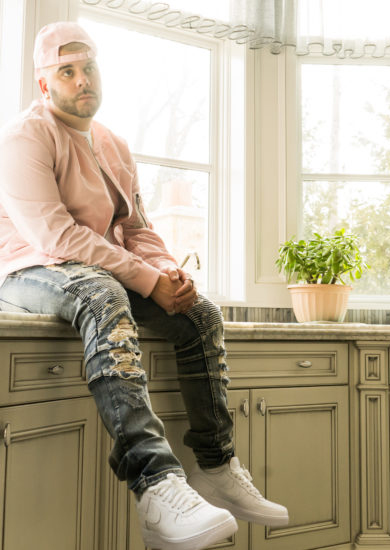 Peter Jackson is often referred to as "the hardest working rapper in Canada". Known for his intense work ethic both in the studio and on the road, Jackson has spent the last several years touring Canada with artists such as French Montana, TI, Nelly, School Boy Q, Juicy J, Waka Flocka, Jadakiss, Machine Gun Kelly, Wu-Tang Clan, Akon, Snoop Dogg, and more. Some highlights include performing as the supporting act for 50 Cent at the Calgary Stampede and appearing as the official supporting act for Sean Kingston in 19 Cities across Canada.
Jackson recently wrapped up a 23 city tour as the supporting act for international recording artist Fetty Wap, promoting his new project Married to Success. Jackson is now preparing to embark on his first U.S. and European tours.
In addition to being Virgin iHeart Radio's Future Star for April 2017, Jackson's lead single from the album, "On a Wave", charted well across the country.
"On A Wave" broke the top 30 at CHR Radio in Canada and the top 40 on Billboard's Top 100. The single was also added to 25 CHR Recording stations across Canada, peaking in the top 20 on Toronto's Z103.5.
Some other notable numbers include:
#30(LW: #32) Mediabase TOP 40/CHR Spins
#32(#33) Mediabase TOP 40/CHR Audience
#33(#36) BDS CHR Spins
#36(#39) BDS CHR Audience
#119(#130) Mediabase ALL FORMAT Spins
#182(#159) Mediabase ALL FORMAT Audience
#32(#40) BDS CANADIAN Spins
#58 (#68)SHAZAM Top 100 Canada
During the Toronto Raptors' 2015-2016 playoff run Jackson spent 5 weeks on the Billboard charts with his "We the North" playoff anthem. The record peaked at number three on the Top 100 in Canada behind fellow Canadians, Drake and Justin Bieber. Jackson also made appearances on all of the major Canadian news networks to perform and promote the anthem. The We the North EP sold over 30,000 copies in Canada.
In the United States, Jackson has experienced success with his records "Hold up" with YG and "Can't Get Enough" featuring Jadakiss, Sheek Louch, and Styles P of The Lox. The records were featured on every major Hip Hop blog and a number of mixtapes. Jackson's "Prom Night" featuring Riff Raff reached over one million downloads. Jackson's song "Hold Up" featuring YG has experienced radio success in both the United States and Europe, reaching over 6 million plays on YouTube and over 1.5 million streams on Spotify.
Jackson's previous Project "Married To Success peaked at #5 on iTunes album sales for Canada and #2 in the Hip Hop category. The album has also sold over 5500 copies on Neilson Soundscan.
In April 2015, Jackson embarked on his first solo tour, headlining in 17 shows across Canada.
Over the last two years, Jackson has been awarded eight honours from the Canadian Urban Television Awards, including, Music Video of the Year (2017) and Director of the Year (2017) for "On a Wave", Event Promoter of the Year (2017), Collaboration of the Year (2017), Mixtape of the Year for Good Company, Music Video of the Year for "Havana", and Rap Album of the Year (2015) for Since I was 16 and Album of the Year (2016) for Two Sides to a Story. Jackson has also received press in over 500 major Hip Hop and music publications and was nominated for Hip Hop artist of the year at the Independent Music Awards.
In addition to Jackson's performance accomplishments, he is the owner of 90 Nickel Entertainment, a management and show promotions company managing notable artists such as Madchild. Jackson is also co-owner of the International Touring Agency, one of Canada's premiere booking agencies. With over 170 shows a year nationally, ITA is responsible for a number of notable tours including, Nelly, Akon, TI, Sean Kingston, Tech N9ne, ICP, Jadakiss, and Fabulous.